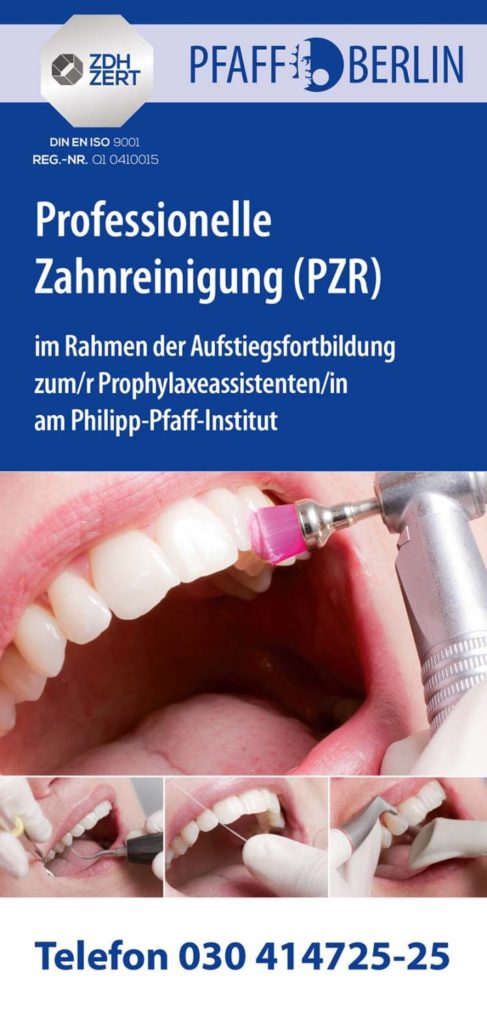 Prophylaxis and professional teeth cleaning for patients
As part of the advanced training seminar to become a "Dental Prophylaxis Assistant" (ZMP), we offer professional teeth cleaning. The treatment measures are carried out by dental assistants who are undergoing advanced training to become "dental prophylaxis assistants" (ZMP) and are supervised by dentists who are present at all times.
Next treatment period: 06.11.2023 to 16.02.2024
The treatment is charged as a private service. Our team will be happy to inform you about the costs involved.
The invoice can be paid by girocard or bank transfer. Cash payment is unfortunately not possible.
Periodontology consultation for patients
Do you have gum problems? Then come to us, we will be happy to advise you. We offer our periodontology consultation 1 x per month. In this consultation you will be attended by specialized dentists of the Philipp-Pfaff-Institute and the dental clinic of the Charité.
Information for dentists to assist in the treatment of periodontal disease (periodontology consultation).
Are you confronted with special periodontal diseases in your practice or do you have specific questions in this context? Then you and your patients have the opportunity to use the special periodontal consultation hour at the Philipp Pfaff Institute. The consultation currently takes place once a month and is supervised by specialized dentists from the Philipp Pfaff Institute and Charité University Medicine. The consultation starts with a precise diagnosis, which is supplemented by a detailed consultation and individual therapy recommendations. Depending on the findings, any necessary treatment can be carried out directly in the "DH Seminar" (advanced training to become a dental hygienist) of the Philipp Pfaff Institute Berlin according to the latest scientific findings.
Patients who require surgical periodontal therapy or suffer from peri-implantitis can receive complementary treatment in the Department of Periodontology and Synoptic Dentistry at Charité-Universitätsmedizin. In each case, there is close cooperation with the referring dentist. After completion of the periodontitis treatment, the patient receives a report of the findings so that further treatment can be carried out in the practice without any gaps. For questions and to make an appointment, please contact our team at 030-414725-25.